Shopping Mall Barcelona (Arenas de Barcelona)
Commercial center Arenas
What used to be a bull fighting arena till 1977 is since 2011 a state of the art shopping center.
Its still has the historical look on the outside, but the inside is super modern. Besides shopping of course, there are many things to do.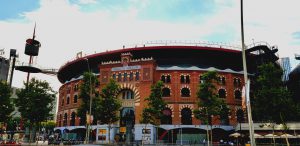 Shopping in Las Arenas Barcelona
This place looks even bigger on the inside than you would expect from the outside.
Almost all of the well known clothing brands are represented here.
Furthermore, there are many small boutiques.
Cinema inside of Arenas Shopping Mall Barcelona
Believe it or not, but there are actually 12 auditoriums on the 4th floor.
They have really comfortable seats and the angle is just right. (So you don't see the head of the person in front of you).
Secondly, they have the latest 3D technology and a great sound system.
They show all movies in original languages but of course with Spanish subtitles.
If you come by car, a 3 hour parking (downstairs) coupon is included in your cinema ticket.
Check here all the current movies that they play.
Roof terrace with restaurants and amazing views
The Arena in Barcelona has a round shape, on top (outside) you can get all the way around the roof terrace.
It's full of all type of popular restaurants and is always cozy. Also because these restaurants have one of the best views of Barcelona.
You can access the roof terrace from the inside using the inside escalators or elevators. But of course, the outside elevator is by far the coolest way to get up!
You pay 1 euro per person for a ticket that brings you up, and back down.
Basement levels with supermarkets, food shops & parking
On the basement levels you will find a big parking for this big shopping mall in Barcelona. Usually there is plenty of space and the prices are average for B arcelona.
There is a 3 hour free parking ticket included if you buy a ticket for the cinema.
And much more..
If you think all of this might still bore you, I haven't mentioned everything yet. There are also museums, gyms and many more things to do and discover.
Location

Gran Via de les Corts Catalanes, 373 – 385, 08015 Barcelona
Getting there by public transport
The shopping mall Las Arenas is located at the Plaça d'Espanya, where you have an excellent connection by metro or train:
Train (Line L8 color pink)
Metro (Line L1 color red or L3 color green)
Last word of advice
If you have the opportunity to visit the nearby magic fountain, you definitely should!