The Ruin Castle of Palafolls (Mas Carbó)
Castle of Palafolls (Castell Mas Carbó)
On top of the highest hill in Palafolls you'll find the ruin Castle called "Castell de Mas Carbó". Dating back from at least 1252, it was part of the chain of castles in the "Selva" area. (The Selva is a county within the province of Girona/Gerona and another nearby castle is the Sant Joan Castle in Blanes). In the 20's of the 20th century they made important geological discoveries and the castle is now completely open for public.
Exploring the Castle of Palafolls
Once you arrive at the castle you will notice the impressive big size of this structure. Although the majority of the structure has been crumbling down over the centuries, you can still see an intact chapel and what seems to be an old storage room. Also the many stairs and height of the walls that still stand, indicate that it had several floors up.
You can explore the entire castle for free, and it's completely open. Just note that there is no staff nor many security measures.
The views from the castle are spectacular
At the far end of the castle you have the opportunity to climb up the watchtower and basically have an amazing 360° view over the mountain area. Take note that there is a small metal ladder and you have to pull yourself up a bit. (From experience I know that not everybody dares to get all the way up).
At the front (seaside) you have an amazing view over the beach area from Blanes to Malgrat de Mar. On the picture below you see a narrow staircase next to the chapel that you can climb to see this incredible view. You can sit down a bit and just feel like the king of the castle.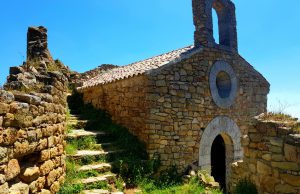 Best way to get to the castle of Palafolls
I personally like to go by bike, but it's nearly impossible to get all the way up. So then I lock my bike and walk the rest uphill.
This is pretty doable for people with an average fitness condition. Just use the address below for navigation.
Ofcourse the easiest way to get up is by car or motor. If you put in the address below it sometimes tries to guide you over a unpaved roadway over a big hill (not recommendable).
If you use Google navigation (Maps) switch the off-road route options off.
Location

Carrer Camí del Castell, 28-54, 08389 Palafolls, Barcelona