Ermita Santa Bàrbara in Blanes (The hermitage of Blanes)
Ermita Santa Bàrbara Blanes (The hermitage of Santa Bàrbara)
The 148m high hill is host of these three structures called 'Ermita Santa Bàrbara in Blanes'. It has a hermitage and a hermit house that's documented from at least the fourteenth century. Later in the sixteenth century they added a 5m in diameter and 8m high watchtower, in between the two structures. So it looks like one building.
What can you expect?
It is an amazingly beautiful location where you can take a lot of beautiful pictures. With has a mix of Roman and Gothic architecture, a sun clock and a small altar for Santa Bàrbara (the protector of the village). There's usually a 'should be' drinkable water tap, but the last time I was there it didn't work. (Please let us know in the comments below, if it works again).
The area
This Ermita Santa Bàrbara in Blanes and the Castle of Sant Joan are closely connected. They are close to each other and they were built about the same time. In between these the two structures there is a road that separates Blanes from Cala de Sant Francesc (the bay of Saint Francis), which is a definitely 'must go to' beach if you stay in the Blanes area.
Visit the hermitage and the castle in one go
Now if you want to visit this place, I advise you to first visit the Hermitage of Santa Bàrbara and after the Castle of Sant Joan. Since they are so close to each other and you are already preparing for this uphill battle, this will be the perfect hike with lots to discover.
How to get there
To get to the hermitage you will have to navigate yourself to the street 'Passeig de Santa Barbara', it starts in the center of Blanes. You follow this road all the way uphill until you see the water station on the image below. Follow the blue arrow to go to the hermitage, and later when you get back down the red arrow to go up to take the short cut towards the castle. (It is an Off-road, rocky pathway).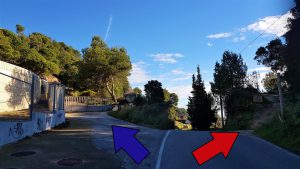 After you reach the castle you can go down in a different direction by stairs. The 'getting down' instructions of this path are on our page about The Castle of Sant Joan.
*It has no actual address, just go uphill on the right side of the big water station.